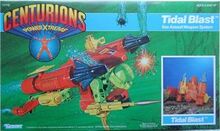 Tidal Blast is a mid-sized Assault Weapon System used by Centurion team-member Max Ray. The system is composed of an an underwater breathing apparatus attached to a double thruster array that also houses two potent Shark Missiles. Additional weaponry includes a forearm-mounted Harpoon gun and a rotating Repulsar Cannon, with fire control provided by an advanced Target Sensor. Unusually, the system includes a number of more utilitarian accessories, such as a Grappling Hook and Cable Winch device and an auxiliary Sonic Thruster.
Toy Photos
Features
Rotating the Chest Shaft will cause the 'breathing apparatus' on the Chest Pack Hydrofoil Unit to rhythmically pulse.
Rotating the Chest Shaft left or right will cause the corresponding Shark Missile to launch.
The Grappling Hook can be detached from the Cable Winch.
Notes
Components