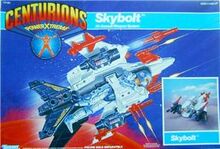 Skybolt is a heavy Assault Weapon System used by Centurion team-member Ace McCloud.
Features
[
]
Pressing the button on the backpack will cause the turbine to spin and drive the Chest Shaft.
Rotating the Chest Shaft on the Chest Unit will cause the top hardpoint to pulsate and the front hardpoint to rotate. When in a show accurate configuration, this causes the Anti-Radar Deflector to pulsate and the Infrared Detector to rotate.
The Splicer Missiles can be launched by turning a firing switch. There is a secondary firing switch in the form of a rotating plug; this can be activated by mounting a single Splicer Missile on top of the Back Pack Control Unit.
The Modular Invertable Wings can be mounted in either swept-wing or forward swept-wing configurations.
Components
[
]
1xBackpack
1xChest Unit
2xBooster Stabiliser pods
2xModular Invertable Wings
2xRadar Tracking Wings
2xMissile Launchers
2xHeat-Seeking Misssiles
2xGalactic missiles
1xAnti-Radar Deflector
1xInfrared Sensor
Curiosities
[
]
This Assault Weapon System was known in the Latin America dubbed cartoon as "Armadura" (Armor).
Speaking of the cartoon series, the Skybolt was combined with the Orbital Interceptor in a combination that consisted mostly of Orbital Interceptor with some of the Skybolt's weapons (like the Galactic Missiles for example).