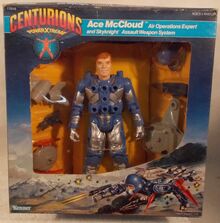 Sky Knight is a light Assault Weapon System used by Centurion team-member Ace McCloud. The system consists of a variable-winged backpack, two powerful thrusters, and a rotating, chest-mounted Laser Cannon Pod. Additional ordinance comes by way of two Stincel Missiles, and a Laser-Guided Bomb directed by a Dual Laser apparatus.
Features
[
]
Unlike Max Ray's basic system Cruiser, or Jake Rockwell's basic system Fireforce, Sky Knight has no spring-powered firing missile. Instead, rotating the Chest Shaft will cause the Laser Cannon Pod to rotate and the variable wings in the backpack to sweep back and forth.
Components
[
]
Curiosities
[
]
The Sky Knight was known in the Latin American dubbed cartoon as "Ráfaga Eter", which roughly translates as "Ether Gust"
Max Ray used the Sky Knight in the episode "To Dare Dominion (Part I)" to cover Ace due to an injury.