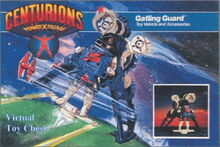 Gatling Guard is one of the unreleased toys from the second year of the Centurions toy line. It was featured in later episodes of the TV series. In universe, Gatling Guard is an Assault Weapon System for Rex Charger. It's a large, complex, and powerful hovercraft-like system whose major feature is a back-mounted, revolving chamber that fires several missiles. Kenner's 1987 catalog states that "As each missile is moved into firing position, it is 'energized' by a special light housing, giving it a unique, lighted 'after-burner' effect as it's launched." Not only do the missiles and the magazine chamber glow in the dark, but the light housing is powered by a D-size battery, which would have made Gatling Guard the only battery-powered Centurions toy manufactured by Kenner had it been released. The "energizing" and "after-burner" effects were achieved by putting a hole in the central shaft of each missile for the light to shine through.
Gatling Guard's other equipment included two extension bombs, a dual rifle, two current knobs, a reflector, a glow-in-the-dark platform for Rex to stand on, and leg supports that rotated upward approximately 90° to simulate a hovering effect. It could also be converted to a smaller system by removing the light housing and using the platform as an overhead propeller. The Kenner catalog suggested alternate uses for the light housing: "Rex Charger can light the way for the other Centurions hero figures or send secret coded messages with the light button."
In the animated series, Gatling Guard's missiles were identified as a Magnetic Imploder, Gravity Negator, Solar Flare, and Magnetic Shield Generator. Rex used it to destroy an artificial black hole ("Hole in the Ocean") and Doc Terror's Neutron Vortex ("To Dare Dominion").